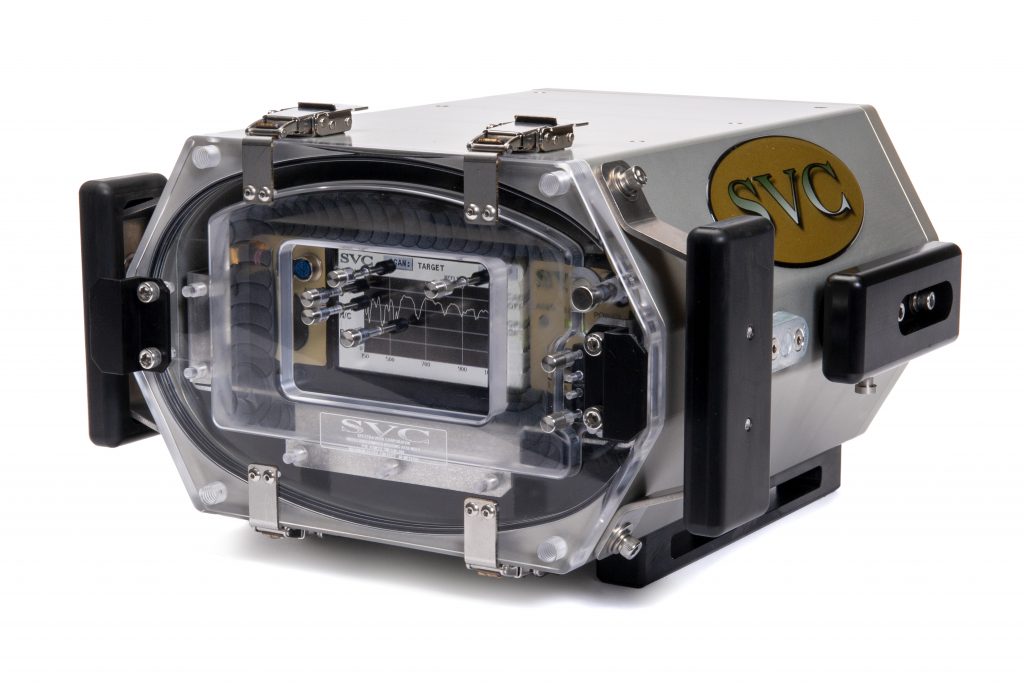 The i-Series Underwater Enclosure Features Include
Easy instrument installation
Quick instrument setup via external pushbuttons
Operation to more than 100 ft. depth
Real time data display through large interface window
Internal camera-coordinates image with spectral file
Internal memory stores 1000 files & photos
Bluetooth allows data download without opening the enclosure
10 hour battery life with the SVC HR-512i spectroradiometer
Marine science and limnological research extends to water column and reflectance measurements below the surface with the SVC diver-operated underwater enclosures.
Early underwater measurements were made possible by using special fiber light guides to bring the reflected energy from the target to the instrument above the water surface. These very expensive fiber optic bundles were proven to have extremely short service lives due to unintentional injury.
This approach proved nearly impossible to acquire accurate measurements because the instrument operator (above the surface) and diver could not properly coordinate the target alignment with the measurement. These difficulties drove the development of our rugged underwater instrument enclosures.
Expanding the ability to measure spectral reflectance of natural and manmade materials below the water surface has been a capability that SVC has developed over the years in conjunction with marine scientists and limnologists.
The GER 1500 has been the workhorse instrument for underwater applications as it covers the VNIR spectral region where sunlight, transmitted below the surface, continues to provide useable energy.  The SVC HR-512i can be outfitted with an external enclosure in order to continue this long history of support to our important research community.
Building on the many years of experience delivering underwater enclosures and spectroradiometers, SVC is pleased to offer the latest underwater enclosure for our i-Series spectroradiometers.