The SVC HR-640i is our full range 350 nm to 2500 nm region instrument with medium spectral resolution in the SWIR region and supports many agricultural applications.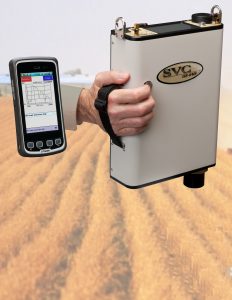 HR-640i Specifications

Spectral Range
350 nm – 2500 nm
Internal Memory
1000 scans
Channels
640
Linear Array
(1) 512ch Si, 350 – 1000 nm
(1) 64ch InGaAs, 1000 – 1890 nm
(1) 64ch Extended InGaAs, 1890 – 2500 nm
Spectral Resolution (FWHM)
3.3 nm, 700 nm
30 nm, 1500 nm
28 nm, 2100 nm
Bandwidth (nominal)
1.5 nm, 350 – 1000 nm
14 nm, 1000 – 1890 nm
10 nm, 1890 – 2500 nm
Minimum Integration
1 millisecond
FOV
4˚ standard, 8˚ or 14˚ optional
25˚ optional armored fiber optic
Noise Equivalent Radiance

≤ 0.8 x 10-9 W/cm2/nm/sr @ 700 nm
≤ 1.0 x 10-9 W/cm2/nm/sr @ 1500 nm
≤ 1.0 x 10-9 W/cm2/nm/sr @ 2100 nm
Stand Alone Measurements
(no computer required)
Standard
Calibration Accuracy
(NIST Traceable)
±5% @ 400 nm
±4% @ 700 nm
±7% @ 2200 nm
Wavelength Reproducibility
0.1 nm
Dark Current Correction
Automatic/selectable
Spectrum Averaging
Automatic/selectable

Physical Specifications

Head Size
8.75" x 11.5" x 3.0"
Weight
8.5lbs., 3.8kg
Digitization
16 bit
Battery Type
7.4 V lithium ion
Battery Life
3 hours approximately
Host Communications
wireless Bluetooth
USB
RS232
Sealing
Sealed against dirt and dust
Tri-pod Mounting
Standard 1/4-20 Camera mounts
Sighting
Laser diode
The SVC HR-640i provides high quality spectral data across the full spectral region from 350 nm to 2500 nm. The spectral resolution in the SWIR region is suitable for many applications in forestry, agriculture and environmental assessment. 
Designed for maximum optical performance the SVC HR-640i has:
Co-aligned symmetrical and uniform field of view

Full conical field of view eliminating spectral discontinuities and step discontinuities at the spectrometer sensor interfaces

Conical field of view gives better measurement data for all surfaces, especially heterogeneous surfaces
And the HR-640i delivers the high quality data with industry leading ease of use:
Data stored in the built-in computer – no external computer to carry in the field

Scene photos and GPS coordinates stored with every file, so you know exactly what the conditions were for each scan

Two Bluetooth devices allows the instrument to receive data from an external sensor suite containing up to 16 separate sensors. The sensor suite can include downwelling sensors supplying instantaneous broad or narrow band solar response. The sensor data is stored with the spectral data file, allowing the researcher to understand changes in solar irradiance and assist in corrections

 

Other environmental sensors are available.
maximize your time in the field
Download Our Free Field Spectroscopy Guide